Expandable Lumbar
Interbody Fusion System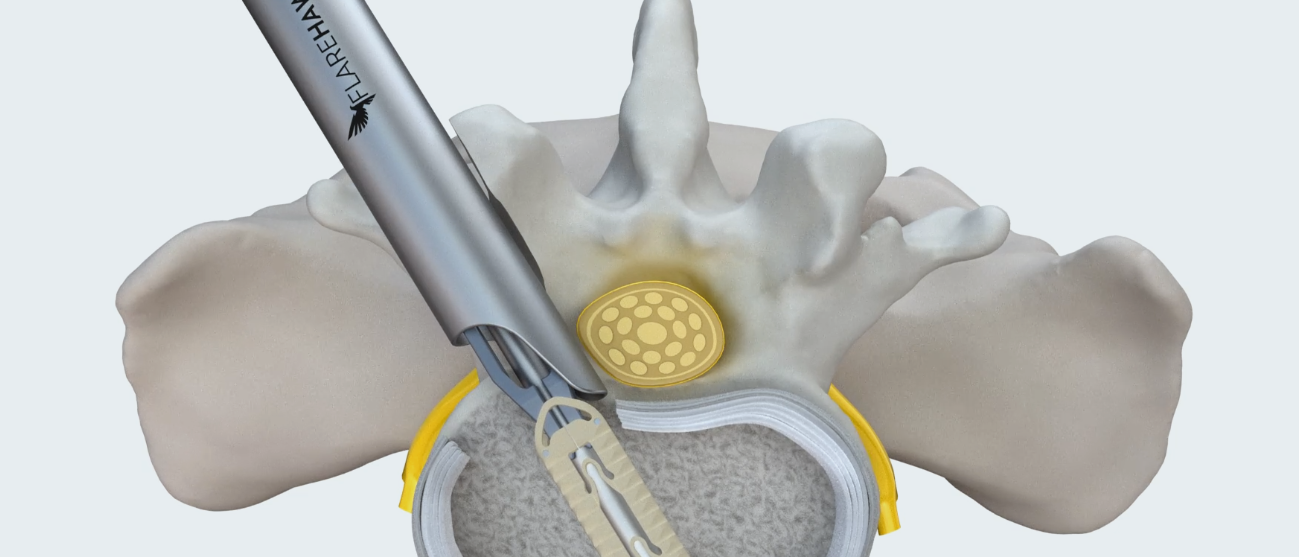 FlareHawk7™ is a multidirectional expandable lumbar fusion device, featuring Accelus's innovative Adaptive Geometry™, that can be inserted at an ultra-low profile of 7mm tall by 7mm wide before expanding up to 12mm tall and 11mm wide. With simultaneous cranial-caudal and medial-lateral expansion, FlareHawk7 is designed to provide sagittal and coronal correction, foraminal height restoration, and the stability to promote fusion. Its pencil-like insertion profile and innovative instrumentation respects patients' neural, vascular, bony, and soft tissue anatomy while also facilitating the surgeon's preferred technique.
ENDOSCOPICALLY ASSISTED TLIF
Leverage endoscopic access while providing instruments necessary for directly visualizing disc preparation and delivering the implants
MINIMALLY INVASIVE SURGERY (MIS) TLIF
Designed to provide safe access to the disc space through Kambin's triangle while also preserving normal anatomy
Minimize the need for neural retraction by inserting an implant similar in profile to a pencil past the neural structures.

Patented curettes with modular handles and shaft diameters compatible with nearly every endoscope working channel on the market to deliver the opportunity for real-time visualization of the disc and endplate preparation.
Adjustable shaver blades provide disc height assessment while simultaneously prepping the disc space and endplates.
Trial the implant and distract the disc space without the need for multiple nerve root passes.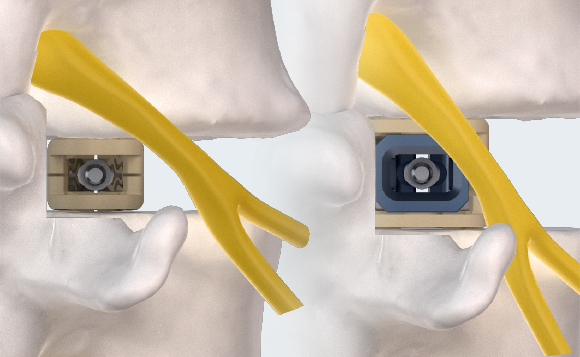 MINIMAL INSERTION PROFILE
Small profile designed to minimize neural retraction during implant insertion.
Adaptive Geometry technology delivers expansion in width, height, and lordosis. Controlled in-situ multiplanar expansion is designed to reduce subsidence, restore foraminal height, and re-establish sagittal balance.
Open architecture allows for continuous graft delivery through the implant and into the disc space. Graft volume is only restricted by the volume of disc removed. Post-pack graft delivery after expansion to maximize graft volume in and through the cage.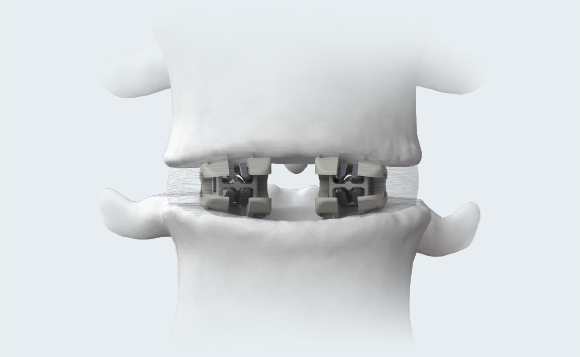 The open-architecture of the cages conforms to individual patients' endplate topography. Naturally occuring deformation of multimaterial bi-directional cage may increase the bone-implant interface's surface area and better distribute the load across the endplate.
INDICATIONS FOR USE/INTENDED USE
The FlareHawk Interbody Fusion System is indicated for spinal intervertebral body fusion with autogenous bone graft and/or allogeneic bone graft composed of cancellous and/or corticocancellous bone in skeletally mature individuals with degenerative disc disease (DDD) at one or two contiguous levels from L2 to S1, following discectomy. DDD is defined as discogenic back pain with degeneration of the disc confirmed by history and radiographic studies. These patients should have at least six (6) months of non-operative treatment. Additionally, these patients may have up to Grade 1 spondylolisthesis or retrolisthesis at the involved level(s). FlareHawk system spacers are intended to be used with supplemental fixation instrumentation, which has been cleared for use in the lumbar spine. Refer to the FlareHawk Interbody Fusion System Instructions for Use for full prescribing information.
1. Cheng BC, Swink I, Yusufbekov R, Birgelen M, Ferrara L, Coric D. Current Concepts of Contemporary Expandable Lumbar Interbody Fusion Cage Designs, Part 2: Feasibility Assessment of an Endplate Conforming Bidirectional  Expandable Interbody Cage. Int J Spine Surg. 2020 Dec;14(s3):S68-S74. doi: 10.14444/7129. Epub 2020 Oct 29. PMID: 33122178; PMCID: PMC7735472.
Additional Procedure Solutions